Week 1 is officially in the books, it's great to have the NFL back. Neither of us were exceptional with our picks last week, I went 6-10, while Mason beat me and went 8-8. Week 2 looks to be promising, with games like Raiders/Steelers, Saints/Panthers, and Chiefs/Ravens on Sunday Night Football. Let's take a look at what went right and what went wrong last week.
Couch:
Last week: I was a pitiful 6-10. I hold myself to higher standards and vow to finish this week with a winning record.
Locks: On the bright side, I was a perfect 3-0 on my locks, with the Bucs, 49ers, and Rams all taking down the Cowboys, Lions, and Bears respectively. Maybe the secret is to have each pick as a lock.
Upsets: Somehow, there was 9 upsets and I picked 2 that didn't happen. Cleveland collapsed, and the Chargers outlasted the Football Team. Not ideal, this week I have 4 upset picks as I look to better my record
Mason:
Last week: In Week 1 I went 8-8. Pretty much broke even. Which I cannot be mad about but definitely could have been better. Obviously there was some big games that should've gone other ways like the Packers/Saints and Bills/Steelers but it's a game of surprises and anything can happen. This Week 1 had the most upsets there has ever been for a season opener. This week if I don't go 11+ wins I see it as a fail.
Locks: I went 2-1 in locks this week. Not a bad record for locks. I could have been better in not relying on the Jaguars to be one of my locks, but sometimes you gotta go bold. The goal is to go 3-0 this week and I think I will get it done easily. 
Upsets: Last week I went 1-1 in upset picks. Also not terrible but can be improved. I'm going big bold this week with 5 upsets. I have big expectations this week and I hope to at least go 3-2 for upsets on the week. It's very possible that all these teams win and if it does then I would consider myself the best analyst to live.
New York Giants at Washington Football Team (-3.5)
Couch: Washington wins 24-16
A clash of the Titans on TNF, tonight we get Daniel Jones vs Taylor Heinicke. New York's only hope for winning this game is to have the offensive line improve significantly, allowing Saquon Barkley to run and Daniel Jones time to throw. When you have a subpar oline, Washington is not the team you want to play.
Mason: Washington wins 21-17
Washington got off to a rough start this season especially with the loss of Fitzmagic and that could be a road block they will need to overcome. Their defense looked super good even with Chase Young getting shut down by Rashawn Slater. Daniel Jones also proved to still be a liability and turnover machine and do nothing but hurt the team. Daniel Jones will most likely have another turnover somehow.
Las Vegas Raiders at Pittsburgh Steelers (-5.5)
Couch: Steelers win 24-14
Both of these teams impressed last week, with the Raiders winning a crazy MNF game and the Steelers shutting down Josh Allen. The Pittsburgh defense was amazing, and I think they're significantly better unit than Baltimore. Since Vegas won, people forget how much Carr was running for his life at points in their game. I think T.J Watt leads Pittsburgh to the W.
Mason: Steelers win 24-18
Pittsburgh's outstanding defense and TJ Watt held Josh Allen and the Bills to only 16 points which took the whole league by surprise. The offense and receivers played great but where was Najee? Even though he played 100% of snaps he only had 45 rushing yards but I don't see this being a problem. The Raiders pulled off a big upset Monday night against the Ravens and they looked really good all around but I don't see them beating the Steelers at Heinz field.
San Francisco 49ers at Philadelphia Eagles (+3)
Couch: Eagles win 26-23 *UPSET*
The Eagles looked amazing last week. Granted, they were playing a basement dweller in the Falcons, but a great win nonetheless. The Niners looked great until there was about 2 minutes left, where they proceeded to ALMOST allow the greatest comeback in NFL History. I like Jalen Hurts to pull off the upset and keep their momentum going strong.
Mason: 49ers win 28-27
I can see this game being way closer than people seem to think t will be. The 49ers have a great defense but I do not see them being able to keep Jalen Hurts from running the ball, which he does exceptionally well. This game will be a shootout but I see the better overall team coming out on top.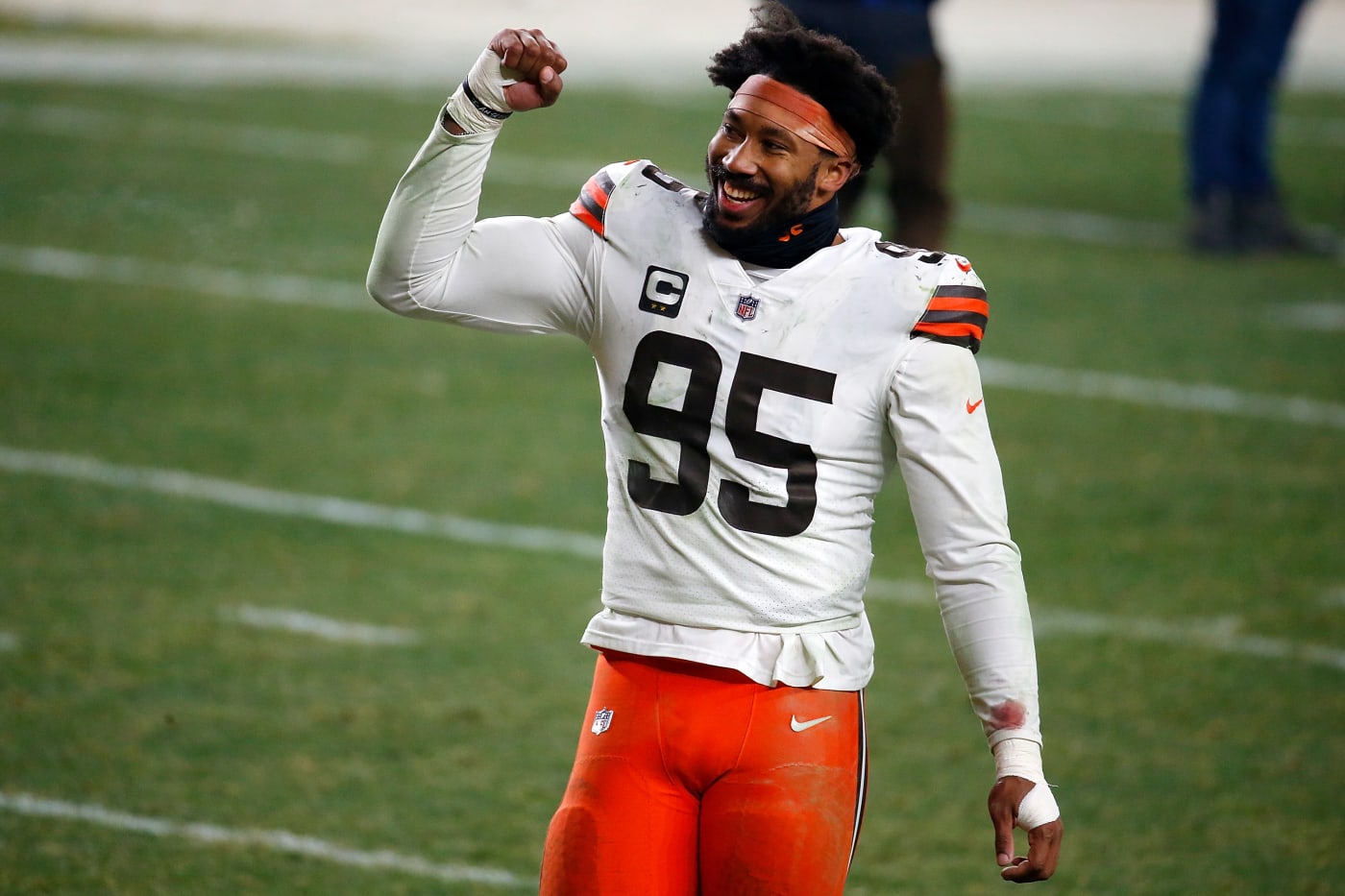 Houston Texans at Cleveland Browns (-12.5)
Couch: Browns win 37-16 *LOCK
The best 0-1 team vs the worst 1-0 team. Cleveland is gonna come out desperate for the win after falling to Kansas City, and I would be flabbergasted if they don't get it done.
Mason: Browns win 31-15 *LOCK*
The Browns had the lead over the Chiefs for most the game but the Chiefs eventually came back and came out on top. That doesn't mean I think the Chiefs should have won because I can see the Browns as the better and more rounded team. The Texans pulled off the win somehow. It was a fluke though. I don't see them pulling off the upset in this game at all and I see Nick Chubb and Kareem Hunt tearing apart this defense
Denver Broncos at Jacksonville Jaguars (+6)
Couch: Broncos win 29-13
If Teddy Bridgewater plays how he did against the Giants every week, then the league is in trouble. Denver will dominate a Jags team that just lost to he consensus worst team in the league, and it wasn't close either.
Mason: Broncos win 23-16
Teddy Bridgewater looked good last game against an upcoming Giants defense. Having Von Miller back on defense is already a huge step. He came back ready totaling up 2.0 sacks. I see him continuing his hot start and getting another 2 sacks against an unknown Jaguars offensive line. The Broncos lost star receiver Jerry Jeudy and it will take a hit to the receiver room but they are deep and can hold off until he is healthy again.
New Orleans Saints at Carolina Panthers (+3)
Couch: Saints win 30-28
New Orleans looked like the best team in the league last week, humbling the NFC runner ups by 35. Carolina got the win against the Jets, so this is a game I'm excited for. These teams play each other tough, and the Saints have been the big brother in this relationship for the better part of the last 5 years. I'll take them in a very close game.
Mason: Panthers win 19-18 *UPSET*
This will be a game that goes down to the wire but in the end I see Darnold and the Panthers coming out on top. Darnold looked like he took a big step from last year to this delivering some dimes on the field. He looked great in my opinion. Although the Saints just dropped 38 points on the Packers I see that coming down and that cooling off. This is a divisional rival and they play in Carolina. This will be a game to watch for me.
Los Angeles Rams at Indianapolis Colts (+3.5)
Couch: Rams win 31-15
I'm surprised the Rams are only 3 point favorites in this one. Everything they tried last week worked, Jalen Ramsey had perhaps the best game of his career, and Matt Stafford was on fire. Indy got handled by Seattle. This is a really rough opening schedule for the Colts, and I think they'll fall to 0-2.
Mason: Rams win 34-23 *LOCK*
The Rams looked flawless. Matthew Stafford looked so much happier and comfortable on the field. I see the Rams as second to none. They are arguably the best team in the NFL aside from maybe the Buccaneers. The offense is unstoppable and the defense is great. I can see the Colts maybe making this an interesting game but the Rams will break it open late. I wouldn't trust Wentz throwing into this defense especially towards Ramsey.
Buffalo Bills at Miami Dolphins (+3.5)
Couch: Bills win 27-20
Out of all the teams that won last week, the Dolphins victory in New England was easily the least inspiring. A late forced fumble sealed the win, but I was not impressed with Tua at all. The Bills have been running this division rivalry for a few years now, and coming off a bad loss to Pittsburgh, I think they come out and even up their record.
Mason: Dolphins win 26-24 *UPSET*
The Bills didn't look too good last week. They really couldn't get anything going. The Dolphins really didn't look too good last week either, but they still pulled out the win in foxborough.. This will be a close game and I'm getting a gut feeling Miami pulls off the upset at home against the Bills. I can see this going either way but I will stick with the Dolphins for the W.
New England Patriots at New York Jets (+6)
Couch: Patriots win 27-13 *LOCK*
Despite last weeks loss, Mac Jones looked great, which is an encouraging sign for New England. Zach Wilson had his moments too, he threw some beautiful deep balls that weren't caught. New York's oline was really bad vs Carolina, that's gonna be a problem vs the Pats. This is one of the more underrated matchups this week, two division rival rookie QB's play each other for the first time. I'll take the Pats to win comfortable.
Mason: Jets win 18-14 *UPSET*
The Jets took an L last week from former Jet Sam Darnold but this week I see them pulling off a HUGE upset to shock the NFL community. Zach Wilson and Corey Davis will have another monster game and the defense will find a way to stop Mac Jones. This will be another game that is going to be way closer than people sit it as. Wilson and the Jets offense will carry them to a win against fellow rookie Mac Jones.
Cincinnati Bengals at Chicago Bears (-2.5)
Couch: Bengals win 20-16 *UPSET*
Cincy surprised me last week, beating a talented Vikings team in overtime. I'd say the Bears disappointed me but they didn't, they lost by almost exactly as many points as I thought they would and looked terrible. Their is hope for the Bears this week, we have the Andy Dalton redemption arc as well as a very talented Chicago front 7 lining up against the Bengals oline, which let Joe Burrow be sacked 5 times last week. I'll take the Bengals to stay hot.
Mason: Bengals win 23-14 *UPSET*
The Bengals came out firing last week against the Vikings and took them to OT and beat them. Mixon was a big part of that game and if they continue to feed him while Burrow keeps the passing attack there this offense is pretty hard to stop. Then it just comes down to if the Bengals defense can stop the not so good Bears offense. If Fields is named starter then I think this game could go to the Bears easily but if they continue to leave him on the bench they will continue to lose.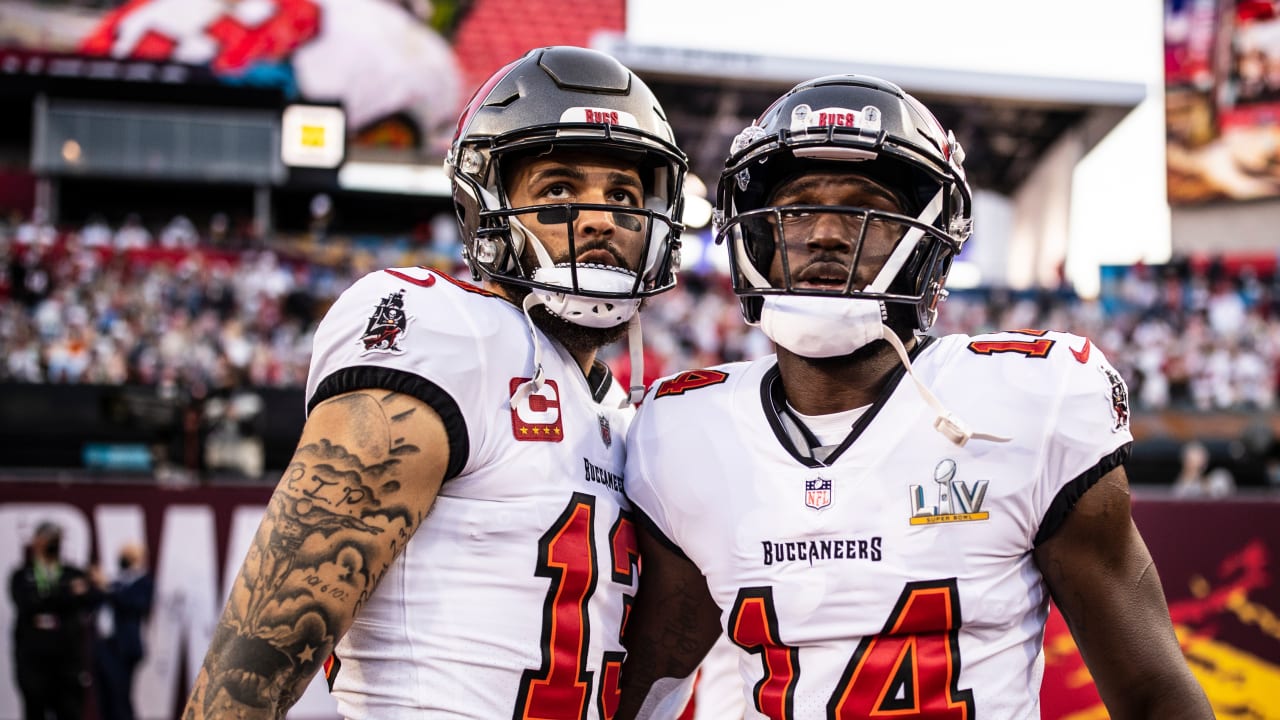 Atlanta Falcons at Tampa Bay Buccaneers (-12.5)
Couch: Buccaneers win 42-17 *LOCK*
Atlanta couldn't have looked any less inspiring against Philadelphia if they tried. Now, they take on the best team in the league. It won't be pretty.
Mason: Buccaneers win 36-10 *LOCK*
The Buccaneers all around looked so good against the Cowboys. Tampa is one of the most well rounded teams, they have arguably the best defense and a top 3 offense. It doesn't get any better then that. With the Falcons only scoring 6 against a bad Eagles defense, I don't see them doing anything to get past the Buccaneer defense. I see the Buccaneers with a blow out win.
Minnesota Vikings at Arizona Cardinals (-3.5)
Couch: Vikings win 27-24 *UPSET*
I know the Cardinals were the best team from Week 1, and that the Vikings lost to the Bengals. This game feels like an upset waiting to happen. Minnesota isn't bad, they really beat themselves. This is a gut feeling, Vikings shock Kyler Murray.
Mason: Cardinals win 28-17
Kyler and the Cardinals offense looked so good against the Titans. Kyler could not be stopped no matter what the Titans threw at him. He is so versatile. Threw for 4 touchdowns and ran for 1. The defense looked great as well with Chandler Jones racking up 5.0 sacks and JJ Watt with 2.0 sacks. The Vikings could barely keep up with the Bengals so I don't think they get in the win column just yet. If they want to get a W though they will need a big offensive day from everyone.
Tennessee Titans at Seattle Seahawks (-5.5)
Couch: Seahawks win 31-26
You don't want to be playing Russ in Week 2. I think the Titans improve after last weeks embarrassment, but the defense looking horrible wasn't a fluke. Seahawks win in a shootout.
Mason: Seahawks win 30-24
Russ is back with his 8 week MVP showcase. This year I think it could last longer and go all year. Something seemed different and how he played with the rest of the offense looks like he wants it more than ever. He threw for 4 touchdowns and I don't think he shows any signs of stopping. Especially since they are playing the Titans atrocious secondary.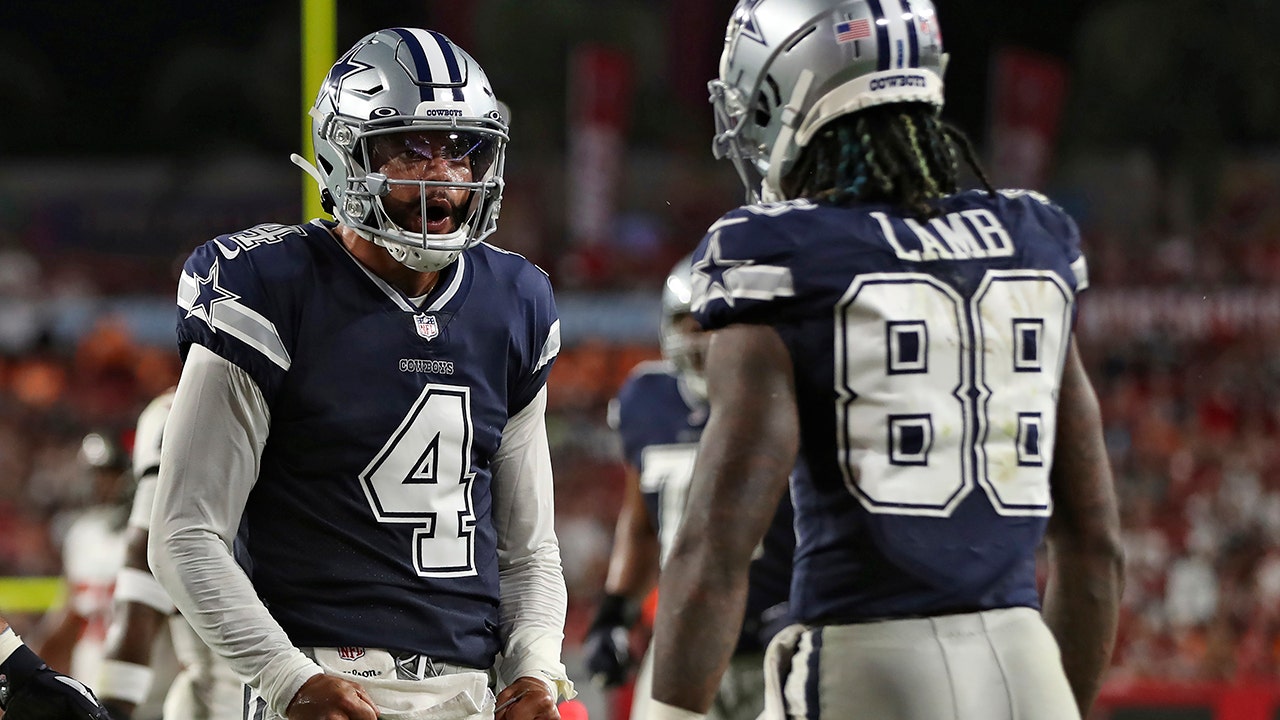 Dallas Cowboys at Los Angeles Chargers (-3.5)
Couch: Cowboys win 30-27 *UPSET*
Dallas is coming off an impressive loss in which they went toe to toe with the Super Bowl champs, but most importantly, Dak looked amazing. Their offense is gonna be hard to stop all year, and I think they get their first win this week against the 1-0 Chargers.
Mason: Cowboys win 26-22 *UPSET*
Dak is back. Simple. He picked up right where he left off last season while throwing for 403 yards, 3 touchdowns and 1 interception. Don't forget this is all against the best defense in the league and they only lost by 2. Dak will have another MVP caliber season and continue to show out and ball. Herbert and the Chargers also have a great offense but I don't see them being able to keep up with the Cowboys and the high scoring offense.
Kansas City Chiefs at Baltimore Ravens (+3.5)
Couch: Chiefs win 35-24 *LOCK*
The Ravens don't beat Patrick Mahomes, it just doesn't happen. Baltimore's offensive line is a question considering how bad Alejandro Villanueva looked last week, and the secondary was atrocious as well. I'd say the Chiefs are a much better version of the Raiders, and I'll take Mahomes to move to 4-0 all time vs Lamar Jackson.
Mason: Chiefs win 31-28
This will be the game of the week and I don't have any doubt about it. Two former MVP's both going at each other head to head. Expect points and lots of them. The Ravens lost to the Raiders but I really am not worried and I think they bounce back and give Mahomes a run for his money and make the game interesting and close. At the end I see Mahomes leading the offense down the field in a 2 minute drill then go onto win the game.
Detroit Lions at Green Bay Packers (-11)
Couch: Packers win 35-20
I tell myself there's no way the Packers lose at home to Detroit on primetime, but I'm also not taking the Packers as a lock. Dan Campbell's team showed signs of life last week, so he's gotta be happy about that. I'm not gonna overreact entirely towards Green Bay's performance last week, they should win this.
Mason: Packers win 23-14
The Packers sucked last week. It did not look like Rodgers even wanted to be playing. I am not sure what was up but I do see them getting it turned around and figuring out their issues. The Lions made big run at the end of the game to almost complete the comeback against the 49ers but just came up short. This game will be close and could end up being a 1 score game the whole time. At the end of the day I see Rodgers getting back on track and figuring himself out and leading this team to W and getting them focused again.