Mr. Big Chest spent the whole summer trying to piss the Raiders off. From giving himself frostbite, to threatening retirement over a helmet, to calling Mike Mayock a cracker, Brown had himself quite an offseason. After requesting a release on Instagram a mere 12 hours after he posted a private phone call with Jon Gruden about how he wanted to be a Raider, Oakand decided they had enough. Brown was cut, missing out on a guaranteed $30M.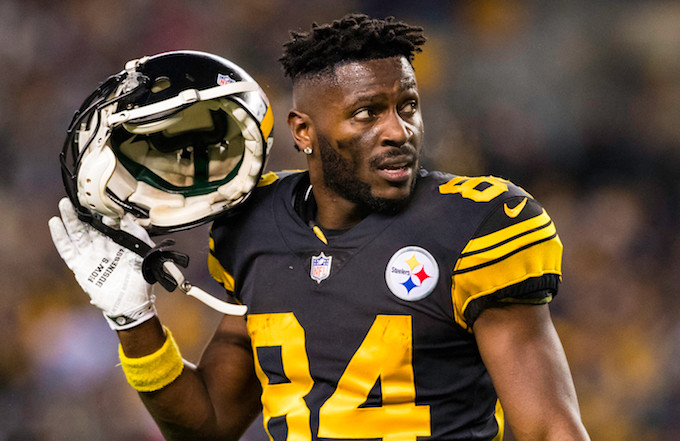 Hours later, Brown announced he had signed with the Patriots, thus creating the potential for one of the greatest offenses ever.
24 hours later, the defending champions annihilated the Steelers by 30 points. Tom Brady hadn't lost a step, picking apart the Pittsburgh defense. A Steelers team that many thought would be competitive seemed dead in the water. The scariest part for the rest of the league is that New England did this without a top three wide receiver.
The addition of Brown gives Tom Brady the best WR core since the 2007 Patriots team that featured Randy Moss, Donte Stallworth, Wes Welker and Jabar Gaffney.
Defenses planning against the Pats will have to cover Brown deep, crosses and slants from Gordon and dink-and-dunks to SB LIII MVP Edelman. After those three, there's still promising rookie Jakobi Myers, not to mention reliable Phil Dorsett II. This is the most talented WR depth chart in the league, and it's not close.
If that wasn't enough to contend with, the running backs James White and Rex Burkhead are legitimate pass-catching threats and make third-down conversions seem easy with swing passes.
For power running, former first rounder Sony Michel can be counted on when it's time to ground and pound and is a threat to break any run long if he can get some traction.
All of this talent led by the greatest QB of all time. The BB and McDaniels mind-meld with Brady will lead to the most prolific offense in football history, here in the "NFL 100" centennial year.
The O-line is coached by Dante Scarnecchia and features Isiah Wynn looking beastly at left tackle. The question of how the team would make up for the loss of center David Andrews has been answered in the form of Ted Karras, a strong and powerful individual with a legendary football bloodline. The line communicates well and looks like either a force field or a steamroller depending on the play.
With this much talent and a clean pocket, expect Tom Brady and the Pats offense to put up silly numbers on their way to another dynastic season.
| WK | DATE | OPP | TIME | TV | VENUE | Pats Projected Points |
| --- | --- | --- | --- | --- | --- | --- |
| 2 | Sep 15, 2019 | @ Miami | 1:00 pm | | Hard Rock Stadium | 42 |
| 3 | Sep 22, 2019 | vs N.Y. Jets | 1:00 pm | | Gillette Stadium | 38 |
| 4 | Sep 29, 2019 | @ Buffalo | 1:00 pm | | New Era Field | 28 |
| 5 | Oct 6, 2019 | @ Washington | 1:00 pm | | FedEx Field | 49 |
| 6 | Oct 10, 2019 | vs N.Y. Giants | 8:20 pm | NFLN | Gillette Stadium | 38 |
| 7 | Oct 21, 2019 | @ N.Y. Jets | 8:15 pm | ESPN | MetLife Stadium | 35 |
| 8 | Oct 27, 2019 | vs Cleveland | 4:25 pm | | Gillette Stadium | 59 |
| 9 | Nov 3, 2019 | @ Baltimore | 8:20 pm | NBC | M&T Bank Stadium | 28 |
| 10 | — | BYE | — | — | — | |
| 11 | Nov 17, 2019 | @ Philadelphia | 4:25 pm | | Lincoln Financial Field | 43 |
| 12 | Nov 24, 2019 | vs Dallas | 4:25 pm | FOX | Gillette Stadium | 29 |
| 13 | Dec 1, 2019 | @ Houston | 8:20 pm | NBC | NRG Stadium | 43 |
| 14 | Dec 8, 2019 | vs Kansas City | 4:25 pm | | Gillette Stadium | 50 |
| 15 | Dec 15, 2019 | @ Cincinnati | 1:00 pm | | Paul Brown Stadium | 48 |
| 16 | Dec 22, 2019 | vs Buffalo | TBA | — | Gillette Stadium | 31 |
| 17 | Dec 29, 2019 | vs Miami | TBA | | Gillette Stadium | 31 |