By Leonard Leon
On April 16th, 2000, Michigan QB Tom Brady's long 3 day wait was finally over. 198 people heard their name called throughout the NFL Draft before 6x Super Bowl champion and future Hall of Famer Tom Brady. Of those 198 prospects, 6 quarterbacks were selected before Brady. Here we are going to take a look at each of these quarterbacks, their career retrospectives, and where they are now.

Round 1, Pick 18: Chad Pennington
The first quarterback off the board was Marshall QB Chad Pennington. Pennington played at Marshall from 1997 to 1999. In three seasons, he would throw 107 touchdown passes to only 30 interceptions. Pennington would have a decent but injury prone NFL career. In 7 seasons with the New York Jets, he would only start all 16 games one time. The team would acquire Brett Favre and release Pennington later that day. After his release from the Jets, he would sign with the Miami Dolphins in early 2008. He would play for them for 3 seasons. On November 14th, 2010, he would start in a Dolphins vs. Titans matchup where he would be injured the first play with a severe shoulder injury. The injury would end his career. Pennington's career was average at best. He made the playoffs with the Jets 4 times, won Comeback Player of the Year twice in 2006 and 2008. As of 2018, Pennington is the head coach of the Sayre School football team in Lexington, Kentucky.
Round 3, Pick 65: Giovanni Carmazzi
The second quarterback was not picked until the third round, that was Giovanni Carmazzi. For those who don't know who this guy is, I don't blame you. Carmazzi played in the NFL for one season and never started an NFL game. The former Hofstra quarterback got to see a little action in the Hall of Fame game against (ironically) Brady and the New England Patriots. Carmazzi struggled only going 3 of 7 for 19 yards in a 20-0 shutout loss. Brady's team growing up was the 49ers and he idolized Joe Montan, so to see Carmazzi picked instead of him was one of many factors that pushed him to be the best. Tim Rattay, a quarterback picked in the 7th round actually made the final roster over Carmazzi and he was cut. He would bounce around NFL Europe and the CFL before retiring in 2005.
Round 3, Pick 75: Chris Redman
Redman was a top blue chip prospect coming out of high school. After some recruitment drama, he chose to play at his 1st choice, Louisville. Redman played there for four seasons before being drafted by the Baltimore Ravens. Redman won a Super bowl in hist first season as the Ravens 3rd string quarterback. He bounced around the league as a backup, joining many teams, including the Patriots. 2007 was his best season, as he went from the 3rd stringer to the starter at the end of the season for Atlanta. After replacing an ineffective Joey Harrington, he nearly led Atlanta back from a 21-3 deficit. This didn't last long, as the very next week Redman joined an exclusive club of signal callers to finish a game with a passer rating of 0.
Round 5, Pick 163: Tee Martin
The third quarterback off the board would be taken in the fifth round. Tee Martin played at Tennessee from 1996 to 1999 and won a national title in 1998. He was a backup to then starter Peyton Manning before taking the reigns in 1998 following Manning's departure to the NFL. He led the Volunteers to a perfect 13-0 record and a BCS title win over Florida State as a junior. He would also lead them to a Fiesta Bowl appearance in 1999 losing to Nebraska. He only lost one game as a starter in college. He wouldn't amount to much in the NFL. After playing a season with the Pittsburgh Steelers as a backup, he bounced around NFL Europe and practice squads before finally retiring as an Oakland Raider in 2004. After a failed CFL stint, Martin turned to coaching. He would become a receivers coach most of his tenures having coached at New Mexico, Kentucky, USC and as of 2019, Tennessee, his alma mater.
Round 6, Pick 168: Marc Bulger
The fourth quarterback was taken five selections into the sixth round. This quarterback was the only other Pro Bowler in this draft other than Tom Brady. Marc Bulger played for the University of West Virginia from 1997 to 1999. He tossed 54 passing touchdowns to 32 interceptions during his time there. He was drafted by the New Orleans Saints but was waived after Training Camp. After spending time on a few practice squads, he was signed to the St. Louis Rams practice squad in 2000. But it wasn't until 2002 where Bulger would get this chance. During the 2002 season, the Rams were 0-5 and the Rams had both starter Kurt Warner and backup Jamie Martin both injured.
The Rams decided to turn to the young Bulger as their starter and he didn't disappoint. Bulger went 6-0 as a starter before getting injured in a late season game against the Seattle Seahawks. The next season, Bulger was named Warner's backup and again took over as the starter after five turnovers and a concussion took Warner out of the game. He led the Rams to a record of 12-4 and would lose to the Panthers in double OT in the playoffs. He also earned his first Pro Bowl nod. In June 2004, Kurt Warner was released and Bulger became the undisputed starter. But the remainder of his Rams tenure was marred by injuries and he would eventually ask for his release in 2010. He backed up Joe Flacco on the Ravens for what would be his last NFL season before retiring on August 2nd, 2011. Since his retirement, he moved to Brentwood, Tennessee and picked up curling. The 2x Pro Bowl had a good career in the NFL making the playoffs twice and exceed expectations as a sixth rounder.

Round 6, Pick 183: Spergon Wynn
The final quarterback picked before Tom Brady went fifteen picks after Bulger. Spergon Wynn was a two year starter at Southwest Texas State, now simply referred to as Texas State University, in 1998 and 1999. He saw action for the Cleveland Browns early in his rookie season, playing in seven games and starting one that resulted in a 48-0 loss to the Jacksonville Jaguars. During his Browns tenure, he went 22 of 54 for 167 yards, no touchdowns, one interception and a career passer rating of 41.2. In early 2001, Wynn and running back Travis Prentice were traded to the Minnesota Vikings for draft picks in 2002 and 2003. He did play in the last few games of the 2001 season, starting two of them, due to the injuries to the Vikings quarterbacks. In a late season game against Green Bay, he threw his only touchdown pass of his career, a 47 yarder to tight end Byron Chamberlain. He would later bounce around the CFL before retiring in 2006. He is currently an energy broker living in Houston, Texas.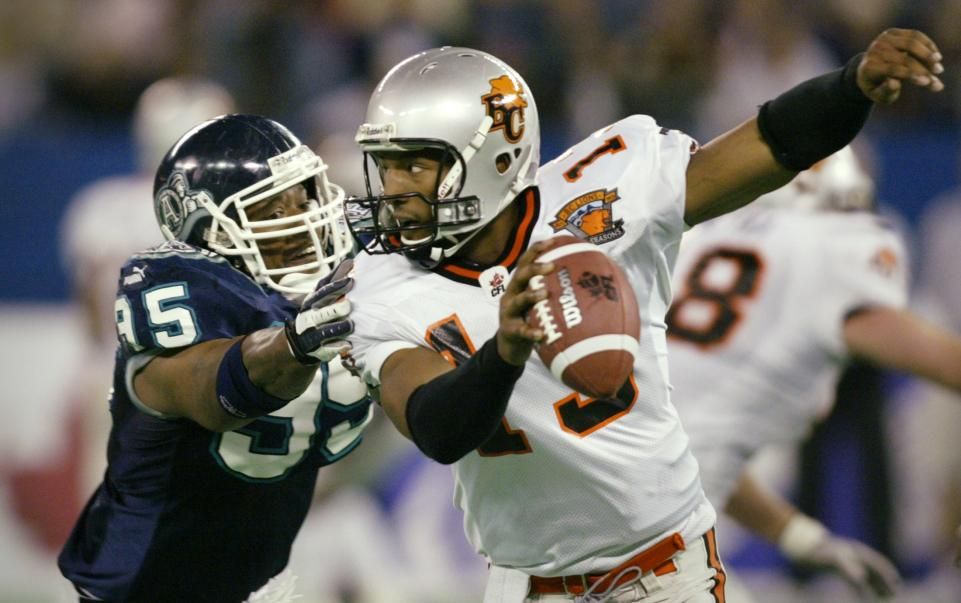 Thanks for reading the story of the quarterbacks taken before the eventual G.O.A.T! This NFL season is going to be huge! Make sure to follow us on Instagram @couchreport for more great sports content!