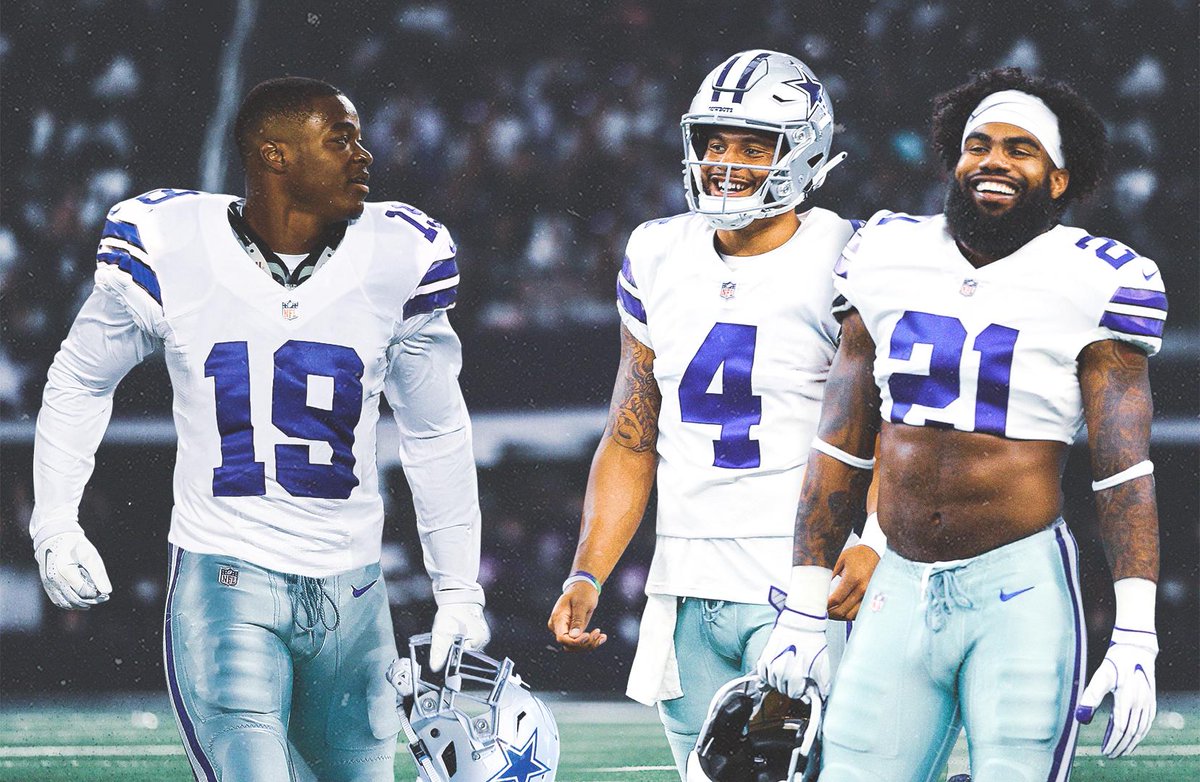 Dallas has one of the best big 3's in football, one of the best defensive fronts, and so much potential. The Cowboys are young, yet still experienced. With Dak Prescott, Ezekiel Elliot, and Amari Cooper needing new contracts, Jerry Jones is going to have to open his wallet to keep the Boys intact.
The NFC is wide open, with 12 teams seriously contending for the six playoff spots. The only teams I think have no shot are the Bucs, Cardinals, Giants, and Redskins. The Cowboys won the NFC East last year after a 3-5 start. It helped that the Eagles had a disappointing season, and the Cowboys swept the series against their normally competitive rival. Last year's Cowboys had a great defensive line, led by Demarcus Lawerence, who just got inked to a $100M deal. However, in their divisional round loss to the Rams, the Cowboys couldn't stop anything. Dallas let C.J Anderson and Todd Gurley run all over them and combine for 273 yards. Dallas weren't big players in free agency or the draft, as they've shifted their focus towards keeping their offense together.
Dak Prescott and Ezekiel Elliot combine to make around $6M this season. Amari Cooper will make $13M. Due to how much a good quarterback matters in today's NFL, the Cowboys are going to have to overpay Dak. He gets a lot of hate, but he was a 4th round pick who has led his team to a 13-3 record and won the division twice. He struggled early in the season, but once Dallas traded for Cooper he became much better.
Among the challenges will be for the Cowboys to sustain drives with rapper and 3rd down security blanket Cole Beasley having departed in free agency for Buffalo. Whilst he is a top lad, Tavon Austin is not good at American football. Perhaps they'll move Randall Cobb to the slot position. Until this happens, expect teams to double team Cooper and watch as 80 year old Jason Witten attempts to outrun super fast linebackers who don't walk with a cane, like Bobby Wagner.
What the Cowboys really need, beyond a chain-moving receiver and a octogenarian tight end, is a head coach that doesn't clap the whole game and playcaller who is able to make strategic adjustments and attack a defense at its weak point. The Cowboys offense is predictable and rather boring. If you and I watching the game on our couch know that it's Zeke up the middle on 1st down, you can be sure the other team knows it as well. It's a testament to how good Zeke is that he's able to generate a robust 4.7 yards per carry while everyone on Earth knows he's getting the ball on a given play.
The Cowboys feel destined to continue grinding their gears in a putrid sea of mediocrity whilst being leapfrogged by NFC teams like the 49ers, a resurgent Falcons squad and maybe even the Eagles if Wentz doesn't get injured. The first priority needs to be locking up Dak and Amari Cooper, because you can't win without a good quarterback. Once Amari Cooper joined the team, Dak was great. Resigning Zeke should also be a priority, as he is a top-two running back in the NFL. However, running backs aren't worth as much today as an elite wide receiver.
While Dallas has all of the pieces to compete with the Saints for best NFC team, it's likely there will have to be a new coach before the Cowboys can seriously be title contenders.