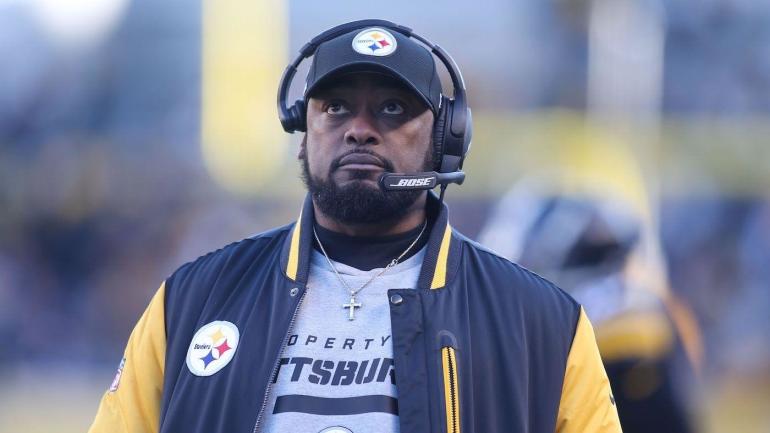 Tomlin's Steelers won their 1st Super Bowl in the 2008 season after Big Ben hit Santonio Holmes in the back of the end zone to beat the Cardinals 27-23. They haven't won since, making only one Super Bowl (losing to Green Bay in 2010) and failing to get there with the trio Roethlisberger, Brown, and Bell. The Steelers were always top 5 in the league in terms of talent, but a bottom 10 coach took away any chance they had to bring Pittsburgh a 7th Lombardi. Now that Brown and Bell have decided to leave, do the Steelers have a chance to win with their new core? Roethlisberger, JuJu, and James Conner is a very talented offensive core, but there is so much turmoil surrounding the organization that it is hard to see them making a run for the AFC against the Patriots and Chiefs. So why does Pittsburgh stay complacent with early playoff exits and 9 win seasons? Why don't the Steelers decide it's time to find someone else?
Pittsburgh as a franchise has been one of the best-run organizations in the league since the AFL merger. Going through just 3 head coaches since 1969 is insane, and each coach has won at least one ring. The '70s Steelers were definitely their most dominant dynasty, winning four championships in six seasons. To put it into perspective, Denver has gone through 4 coaches in the last 5 years. The only problem with this run of consistency is that Steelers' ownership thinks they've found someone that will be remembered as a legend. Mike Tomlin is not a legend, and he never will be. Remember when he tried to trip Jacoby Jones when he was on his way to scoring? It was still better defense than Mike Mitchell could play against the Jaguars in the playoffs.
Tomlin has messed up so many times that it's hard to choose which one was the worst. Not being able to win a challenge penalty for two seasons is pretty depressing. GM Kevin Colbert isn't flawless either, but he's done a great job of giving Tomlin great players to work with. The assistant coaches they hire make me cringe. Hiring Joey Porter as your linebacker coach? Keeping Keith Butler after another year of bad defense? What part of the Steelers makes them play down to their competition? Tying to Cleveland, losing to Oakland and Denver, and blowing a 16 point halftime lead to the Chargers at home. It's pretty impressive the culture that Tomlin has built of not caring about the team.
The worst decision this season was their fake punt against the Saints from their own 40, especially when it was one of the only times the defense was playing well. If the Steelers were going to go for it, why not put in in Ben's hands instead of your slow fullback? Roosevelt Nix was short of the 1st down and the Saints promptly went down the field and scored, all but eliminating Pittsburgh from the playoffs.
Mike Tomlin sucks. How does someone waste all of the talented players he's been given? He just stands there with his arms crossed nodding his head after every play. He also cannot adjust at halftime, so if a team finds out a way to move the ball, it's over. Then in the press conference, he says stuff like, "We lost to the Raiders because their x-ray machine was broken, so we didn't put Ben back in." It's some of the stupidest stuff that someone could say. He blames everything on other people or objects. Here is how his teams have annually disappointed and where it went wrong.
2018 -Missed Playoffs
2017-Lost 45-42 to Jaguars in the divisional round
2016- Lost 36-17 to Patriots in AFC championship
2015- Lost 23-16 to Broncos in the divisional round
2014- Lost 30-17 to Ravens in the wildcard round
2013- Missed Playoffs (8-8)

2012- Missed Playoffs (8-8)

2011- Lost to Broncos and Tim Tebow 29-23 in the wildcard round
Mike Tomlin is the guy who is too lazy to deal with his problems so they continue to get worse and worse and then he doesn't know how he got there. Every day, new former Steelers players are calling him out on how bad he is and how toxic the environment is. Legends Hines Ward and James Harrison are most notable, considering they played almost there entire careers in Pittsburgh. (Ward did) It's a bad look if the two guys that had some of their best moments as his players look back on their playing time and say, "Yeah, Tomlin can't control a locker room. He should get the blame."
Back in 2008, Tomlin was Sean Mcvay before Sean Mcvay. The Super Bowl XLIII win made him the youngest Super Bowl-winning coach of all time at 36 years old. Everyone wanted a guy like Tomlin. What people don't realize is that was retired coach Bill Cowher's team, Tomlin was just the successor. Tomlin hasn't done anything special. His winning record is a sign of how good GM Kevin Colbert has been.
The worst part is that Tomlin hasn't changed at all. When the 2019 season comes around, he will still stand there with his arms crossed wearing sunglasses. I can't wait.
Thanks for reading! If you enjoy, pick up Couch Report Merch from the shop!